Learn how this large hospital system uses RMS' mobile POS solutions to reduce readmission rates while increasing prescription revenue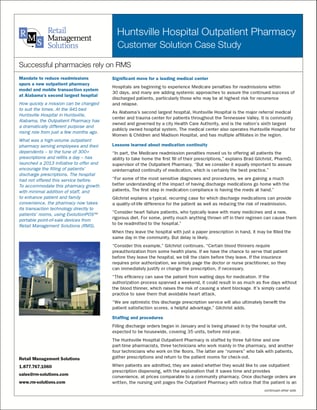 Studies show that one of the major reasons for readmission within the 30 days after discharge is non-compliance with prescription medication.
Doctors find that patients often fail to pick up the medication in a timely manner or in many cases not at all. Additionally, caregivers often pick up the prescription on behalf of the patient therefore, the counseling on adherance never makes it to the patient, or specific instructions are lost in translation.
Ultimately, these failures result in non-compliance with medication and the patient ends up back in the hospital.
Using RMS' mobile POS technology, you can learn how the 6th largest publicly owned hospital system, Huntsville Hospital, is:
Reducing 30 day readmissions
Reducing the risk of Medicare fines for readmittance rates
Increasing discharge prescription revenue, and
Improving patient care at time of discharge

Fill out the form to download today!