Best Practices
Pharmacies: How can you benefit from Small Business Saturday?
Learn how Small Business Saturday can help give your pharmacy sales a boost this holiday season.
---

We had a long summer in Washington State. Beautiful, sunny, 60 and 70 degree days all the way into October. Definitely out of the ordinary. But nobody panic…. The unseasonal sunshine was followed by weeks of torrential downpours. And today, I finally feel winter creeping up on me. The season for cozy sweaters and hot chocolate has officially arrived. Oh, and crazy lines in every store you go to accompanied by more stress than any person should have to handle. Welcome to the busiest shopping season of the year!
The overall frenzy of the holiday season as experienced in a retail setting is unlike anything else. But I love it. Festively decorated stores, alluring holiday perfumes, picking out just the right gifts. It's part of what helps me get into the holiday spirit. Right about now, most people are thinking that I may have already dipped into the eggnog, but I have a strategy for avoiding retail induced holiday stress that doesn't involve premature celebration. I shop local businesses. Okay, so parking may still be a nightmare, there still may be longer than usual lines and occasional grumpy fellow shoppers, but shopping "small" is just a better experience. Anyone who shops local can attest to better customer service, unique products and less stress.
The benefits of shopping local sometimes seem to be an all too well kept secret. And during the holidays, how are independent merchants to compete with flashy advertisements and day after Thanksgiving door busters from all of the big chains? Perhaps this holiday season, the answer is not to try. Don't put all of your eggs in the Black Friday basket. Instead, focus your energy on Small Business Saturday.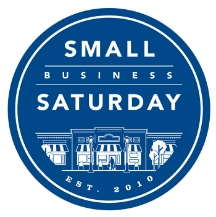 Small Business Saturday is a program targeted to boost sales for local independent businesses. Founded in 2010 by American Express and recognized by the Senate in 2011, Small Business Saturday occurs each year on the Saturday after Thanksgiving (or the day after Black Friday depending how you look at it). It encourages small businesses to promote themselves and pushes shoppers to spend their money with independent businesses rather than with chains or online. In 2012, Small Business Saturday saw an estimated $5.5 billion spent at local independent businesses. And that number continues to climb as buy in for Small Business Saturday grows.
But here's the catch. It only works for you if you participate. This year, on November 29th, I encourage you to get involved with this event. You can elevate awareness of your pharmacy in your community, drive new business through the door and boost sales for the holiday season. And it's easy to do. First, check out the Small Business Saturday Website to learn all about the event. There's lots of information and some great inspiration. Check out the free promotional materials that you can use in your pharmacy. Post the printable ads in your windows, on the front counter and stuff shopping bags with flyers at checkout. Send online ads via email, post them on Facebook and Twitter, and splash your website with a bit of Small Business Saturday info.
Incentivize your existing customers to shop on Small Business Saturday by offering special incentives to members of your Loyalty Program. (Easy Idea: Allow Loyalty members to shop an hour before your store opens to the public on that Saturday) RMS customers can even have a special message printed on the bottom of their receipts to promote Small Business Saturday.
Finally, one of the best things you can do to promote Small Business Saturday both for your pharmacy and your community is to talk about it. Word of mouth is the most powerful marketing tool in an independent pharmacy's arsenal. So share with your customers, family and friends.
This year, I'm sleeping in on Black Friday, but I'll be headed downtown for Small Business Saturday. How about you?

Karen Deckard came to RMS with a background in retail and customer service, and was initially brought on board as a Sales Assistant and managed IIAS certifications for RMS's pharmacy POS customers. Today, Karen works as a Customer Success Manager, striving to provide independent and institutional pharmacies with the tools and resources they need to succeed in today's competitive pharmacy market.